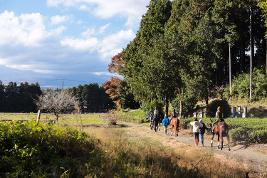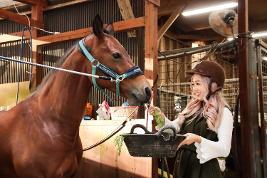 For Visitors
- Trial Lesson -
Come and join us for a special ride, enjoy an extended lesson for only 12,000 Yen for adults and children.
※Visitors can ride three times at this introductory price.
- For the Love of Horses Tour -
Are you an animal lover yearning to get out of the city? Do you enjoy bonding with gentle creatures in a beautiful setting? Are you craving fresh air, lush green forest, and fun with a
Mt Fuji view? You're in luck! Even if you have a limited schedule, Okamoto Riding Club Japan can provide an amazing horseback riding experience!

Even as a beginner, you will experience a riding adventure from start to finish. Your bonding experience begins as you help your horse prepare for the ride. Okamoto horses, selected
from the finest breeders worldwide, have a stellar reputation for calm temperaments, smooth riding abilities, and willingness to bond with humans. After the excursion at the foot of
majestic Mt Fuji, you can feed, groom, and hug your horse as much as you want. Upon transport back to the city, you will feel transformed, rejuvenated, and refreshed.

Your photos and videos will make your friends and family jealous!
■Duration: 1 hour 30 minutes to 2 hours
■Price (per person): ¥18,000 + Tax
※Fee includes: the tour, snacks for the horses, and riding helmet rental
■Tour Schedule:
Changing clothes/orientation Horseback
↓
riding/walking (Mt. Fuji/forest road)
↓
Riding/trotting
↓
Farm visit
↓
Feeding experience/Brushing
■Notice:
* Please provide the information below in order to confirm your reservation:
- Preferred language: Japanese or English
- Number of participants:
(The tour can accommodate up to 6 participants for a single trek)
- Requested date and time: Between 9:30 - 16:00
*Please make a reservation 3 days before the desired tour date. We will confirm availability with you upon receipt of your reservation request.
* Please note that a cancellation fee will be incurred if cancellation is initiated 2 days prior to the reserved tour. (Cancellation on the day : 100% of course fee, 1 day prior : 50% of course fee)
* If the club decides a tour is not feasible due to bad weather or other extenuating circumstances, no cancellation fee is incurred.
*Mt. Fuji view cannot be guaranteed depending on cloud cover.
If you want to make a reservation, please send a message from "Contacct Us" page! (Please write details (date&time / nubmer of participants / couse etc...)